A Victorian member, residing in NSW, has a brand new, unused, 1 tonne, mobile gantry, surplus to his needs.  He has generously offered the unit for sale with all proceeds being donated to the Club.
The member purchased the unit but had it half assembled when he commissioned a new double carport – with a fully supported steel girder.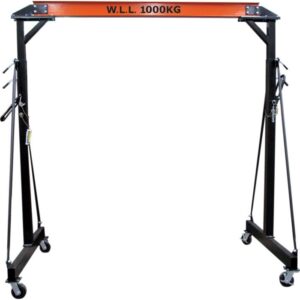 The gantry was purchased from Hare & Forbes (Machinery House) at $979 (incl. GST) under the Code C188.  https://www.machineryhouse.com.au/C188  Note: the gantry comes without a chain block or a girder trolley.
Contact Michael Holding, 0407 008 895 or mholding#netspace.net.au with genuine offers.  Bidding has started at $500.  It will be sold to the highest bidder on May 12th.  The gantry is now un-assembled and available for pickup in Werribee but can be taken to the Narrandera Rally if more convenient.