General Information
The VCCA (Victoria) was founded in 1955 and caters for those who are interested in Cars, Commercial Vehicles and Motorcycles manufactured before January 1st 1919. Please note that membership is open to anyone with an interest in these early vehicles. It is definitely not a requirement  to own a veteran vehicle, membership of the club is a great way to enjoy a common interest and a fascinating hobby.
Events
Our two day RACV sponsored Annual Tour is held each November. A weekend "Icicle Tour" is held in July, a weekend 1 & 2 Cylinder Tour is held in March each year and one-day runs or events are organised each month.
 Upcoming Events
 2017 RACV Great Australian Rally
Brighton to Mornington
The close-off date for receipt of pre-booked rally entries is Thursday 26th January!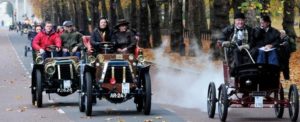 The All British Classics Car Club Vic Inc will be pleased to welcome motor vehicle clubs to the 2017 RACV Great Australian Rally which will be held on Sunday 5th February, 2017.  This event raises greatly needed funds for our friends at the Peter MacCallum Cancer Foundation.  One-hundred percent of all donations and all gate proceeds go to Peter Mac for research purposes only, and to date, we have raised more than $800,000.
The 2017 RACV Great Australian Rally will mark the 22nd running of this major event and will be the 17th occurrence convened at Mornington.
The recently released 2017 RACV Great Australian Rally entry form features a pleasing selection of special rally merchandise.  A special grille badge has been struck and a limited quantity of these badges have been made.
The Veteran Car Club of Australia (Vic), has been asked to fulfil an important role in this popular event.  This year our Ben Alcock and James Dunshea will be organising Veteran Cars to lead the inaugural Veteran Car Run that will precede the event.  The actual starting point is still being finalised but the plan is for Veteran Cars to leave from a departure point and arrive at Mornington and make their entrance at around 10am.  The 2017 RACV Great Australian Rally is organised and conducted by the All British Classics Car Club VIC Inc A0035462V.  The next Rally is to be held Sunday 5th February 2017.  100% of all donations and all gate proceeds go to Peter MacCallum Cancer Centre making this an enjoyable and worthy event to be a part of.  Last year the event raised $58,000.
All entered vehicles must be 25 years and older.  There are three start locations this year being Melbourne, Stud Park, Rowville and Western Port Marina, Hastings.  However, Veteran Cars will be leaving from a location to be advised.
Entry forms are available for download from www.greataustralianrally.com.au.  The 2017 RACV Great Australian Rally entry form can be completed online and then printed for posting to the address on the entry form.
Please note: The close-off date for receipt of pre-booked rally entries is Thursday 26th January 2017
RACV One & Two Cylinder Rally (Hamilton)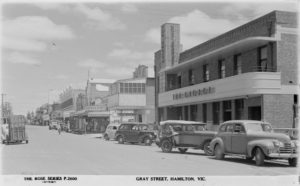 Entries close Friday 24th February – Book Now!!!
See "Events" Menu for more information
Past Events
 2016 VSCC Two Wheel Brake Rally
Health and Ill-health 11th December 2016
By Callum Walsh
Entrant's gathered near the Shrine of Remembrance in the Royal Botanic Gardens between 7am and 8am, where they and their navigators were given the route instructions and quiz sheet for the morning's drive.
The theme of the day was Health and Ill-health and the tour was designed to showcase the past and present locations of Melbourne's medical facilities. Peter Donald put together the instruction sheet that had a fascinating history of each of the locations that we travelled past, some of which still had the original buildings standing there.
I spent the day as the navigator in a beautiful 1937 SS100 which was the most 'modern' car on the run and handled the route with ease. The VCC was represented by David Provan in the 1907 Cadillac, who won a bottle of wine for having less than two wheel brakes! Ben Alcock and James Dunshea in the Overland, Peter Latreille in the 1908 Isotta Fraschini and Brian Hussey in the 'T' Ford. There was also a 1906 Clement powered with a 10L American LaFrance engine, a fascinating machine! Scott and Craig Emmerson left the veteran Cadillac's at home and brought the stunning 1923 Cadillac V63 Phaeton, also winning a bottle of wine for writing the number of brake drums the car has in Latin on the entry form. Des Dillon met us at the finish in the Alphonso Hispano Suiza, as did Graham Fossey with the Tweenie, which drew a lot of attention! Many other vintage sports cars were also in attendance including Vauxhalls, Sunbeams, Lancias, Alvis', a Delage, a MG, a Riley, a Lagonda and an Alfa Romeo just to name a few.
Entrants gathered at the finish line around midday where the question sheets were handed in and prizes handed out, after which you could do as you pleased for the rest of the day. I had a very enjoyable day, as did all entrants that I spoke to, and I highly recommend attending next year's event to all veteran owners.
Annual Rally – Healesville
Photos thanks to  Frances
Contact the Webwallah (Mark McKibbin) if you have suggestions or comments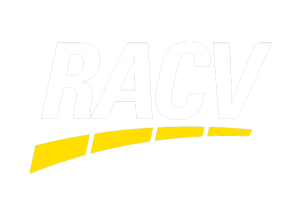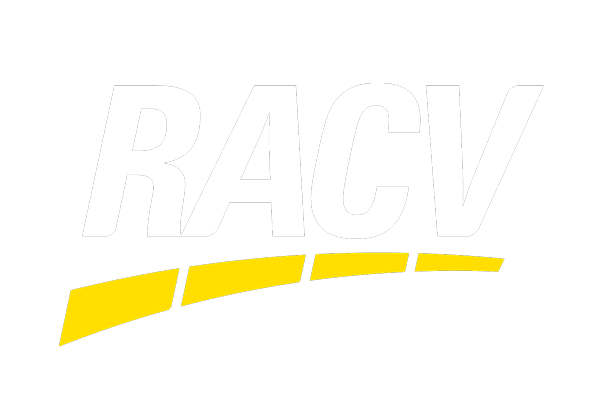 RACV is a Sponsor of the Veteran car Club of Victoria