Springtime Above the Snowline
20th October 2017 @ 8:00 am

-

22nd October 2017 @ 5:00 pm
October will see the start of the second Alpine Tour, Springtime Above the Snowline from Friday 20th through to Sunday 22nd with a leisurely return home on Monday 23rd. The weekend will begin with a gathering for a welcoming pre-dinner drink at the Settlers Tavern at 6pm. Participants can choose to eat at the tavern or from The Stockpot restaurant across the road.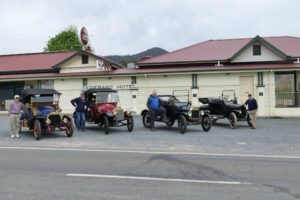 A weekend of challenges and the amazing scenery of  he Kiewa Valley beneath Mt Bogon and Falls Creek will  be in store for all participants where you can choose just how extreme you wish to take it. Spring will be in the air but entrants are cautioned to dress warm as in an open car, the air can be freezing. One and two day excursions are planned with the exact schedule being determined by the weather but the challenge of Test Hill  at Brooklands followed by the climb from Mt Beauty
to Falls Creek is currently set as the excursion for the Saturday. Foolhardy challenges aside, your car is not suitable for this run if you cannot be certain that your engine/gearbox is capable of controlling your downhill speed and that in an emergency your brakes will be  capable of stopping you on a grade of 7% without  engine assistance. On the climb, your engine must be powerful enough to carry you for 200 m up a 7% slope and your radiator needs to be efficient enough to remain cool for the duration of an extended climb.
As was experienced in 2016, most cars of the Veteran period that are in reasonably good condition should have no difficulty with this climb/decent. In 2016, the little Vermorel hardly raised a puff. But remember, this is not a race and the traffic on the road should be minimal. So, select low gear and sit back and enjoy the sound of the lyrebirds and forest scenery. The road surface is good and the air temperature will be cool. A very thorough description of the route can be seen on:  http://theclimbingcyclist.com/climbs/alpine-national- park/falls-creekmt-beauty-side/. The recovery run on Sunday will be a leisurely tour of the area on sealed roads.
Rally entrants should be prepared to organise their own lunches on a BYO basis or taking advantage of the lovely eateries of the area.
Please book your own accommodation. Two motels are suggested.
The Snowgum Motel is located in Mt Beauty but is walking distance from the trailer parking area, Settlers Tavern with bistro and the Stockpot Restaurant. Cooked breakfast is available in the $10 to $20 range.  There is ample parking for your Veteran plus modern car. The cost for a double is $109 per night but there are only about 10 rooms. Check it out at: www. snowgummotel.com.au or call 5754 4508.
The Mountain Creek Motel is located in Tawonga South about 3 km before Mt Beauty. It is virtually across the road from Roi's Italian Restaurant where we are planning to dine on Saturday evening. An advantage of this motel is that there are 15 rooms with covered parking for the Veterans, plus another 15 rooms if we need them. All rooms have a Queen and two Single beds. The only breakfast option provided in-house is Continental but there is a communal kitchen available. The cost for a double is $112 per night. Check it out at: www.mountaincreekmotel.com.au or phone 5754 4247.
The Mount Beauty Holiday Centre has cabin accommodation for from 4 to 10 persons. It is pet friendly. A cabin with double plus two singles costs $105 per night. It is located very close to the Snowgum Motel and facilities nearby.  Check it out at: www.holidaycentre.com.au or call 5754  4396.
There is no entry fee as it is a minimal organisation rally.  Please book your own accommodation as soon as possible and notify John Stanley, john.m.stanley1947@ gmail.com of your details including accommodation,  number of participants and mobile contact number. When: Friday 20th – Sunday 22nd October
Where: Mt Beauty/Tawonga South in the Kiewa
Valey beneath Mt Bogong and   Falls Creek
Contact: Veteran Car Club Secretary
PO Box 2300, Mt Waverley VIC 3149
secretary@veterancarclub.org.au
www.veteran carclub.org.au